People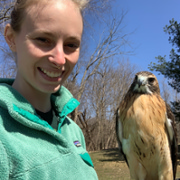 Olivia Utley is a PhD candidate who is interested in predator-prey interactions, antipredator and foraging behavior, and conservation and ecosystem services. She received her B.S. in Biology from the University of Kentucky. She is currently working on several projects including a review paper and fieldwork. Her review focuses on raptor foraging ecology in agriculture and the potential ecosystem services. She is also studying the impacts of American Kestrels on antipredator responses and foraging of passerines in Michigan cherry orchards. In her free time she enjoys training educational raptors at a local wildlife rehabilitation center and falconry.
Sarah Groendyk
Sarah is a Ph.D. candidate who graduated from Ohio Wesleyan University. She spent a couple field seasons working on our American kestrel project in western Michigan. Now she is developing a research project on migrant stopover ecology in urban green spaces.
Melissa Brady
Melissa is a Ph.D. candidate investigating local and landscape features that influence the types and abundance of birds species that use cultivated fruit as habitat. Melissa came to us from the University of Texas where she was a double major in math and biology.